Art in this collection is always updated. These paintings are my most current created art. Some works will have sold. Please get in touch with me for the latest developments. Often a custom commissioned piece could be created which is in the same genre as a painting which has sold.
Giclée custom prints can also be created specifically for your space in the size which is appropriate. We are now printing on a variety of surfaces, including aluminum, glass, canvas, paper, silk, and fabrics for costume and interior design.
The abstract paintings, and many of the bird works, were created after a month of pandemic lockdown. They reflect the hyper focus I felt in a time of reflection, and complete aloneness. Initially I was immobilized, and could not function. No creative energy emanated from me at all. But when I did start to paint, it was in a flood of feeling and emotion. Much of the work is about water, and storms. I think this is no accident. We are all riding the crest of the wave in the darkness of our lives.
botanicals and still life
These works are a bit of a retrospective. The majority of the originals have homes all over the globe. It never hurts to inquire, as most may be purchased as a professionally mastered digital giclée print on a variety of surfaces, including aluminum for garden installations.
Birds are a constant presence in Coop's mountaintop studio.The forested backdrop to her lush garden is filled with the melodic chatter of songbirds. The cheeky bluejays have so fully embraced this magical garden that they help themselves to the ubiquitous peanuts inside and outside her home. 
These original artworks are available for purchase, and are also available as professional giclée prints on canvas.
These paintings form a collection of work shown in the first exhibit of Japanese Garden paintings, Haiku in a Japanese Garden, Amelia Douglas Gallery, BC.  After the dissolution of my marriage, I took solace in painting this garden, and documenting, in photographs, one year of changes, through the seasons. The photographs formed the diary from which I created the art. The making of the art, and the completion of such a large, extensive project, was important for me at a time of emotional chaos and unrest in my life.
Looking back, I realize how significant this era was in my future understanding as an artist. The Teahouse was a grounding feature, not only in the garden, but my life.
These original artworks are not available for purchase, but can be produced in custom sizes and substrates using professional giclée printing.
Spring Sunset
View of Mount Fromme, Grouse Mountain, Crown Mountain, Mount Burwell, Mount Seymour, Lynn Peaks...
Landscapes
,
Sold
The landscapes scan many years of outdoor exploration as I have travelled, or from my memory. Many of these paintings are owned by collectors. Please inquire as to availability, or to purchase a professional giclée print on canvas, paper, plexi, or a substrate. Some of these paintings were custom works which echoed a place which may hold a special significance for a client.
Purple Hand Painted Skating Costume
Hand-painted fabric, Swarovski Crystals on Lycra, mesh, net, chiffon...
Costumes
Custom Skating Dress | Poppies
Custom printed image of Poppies painting on power mesh, nets, Swarovski Crystals, handpainted...
Costumes
Purple Hand Painted Skating Dress With Crystals | Back
Hand-painted fabric, Swarovski Crystals on Lycra, mesh, net, chiffon...
Costumes
Diana Zoe Coop's costume designs for dance, gymnastics, syncro, aerial, and skating have been featured in contemporary productions, and worn by Canadian athletes at World Championships, World Cups, Grand Prix, the Olympic and Special Olympic Games. Her company, "ZoeyCouture," the costume design division of her creative work, may be seen at zoeycouture.com.
Seymour The Peanut Butter Bear is a children's book and labour of love written and illustrated by Diana Zoe Coop. The idea for Seymour began when Diana read an article in a local paper about a little black bear and his escapades around her North Vancouver neighbourhood. Not only did this highlight how close the bears live to people in Canada, but the need for all of us to care for their well being.
The illustrations for the book are original artworks, some of which are available for purchase. These paintings are also available as professional giclée prints on canvas.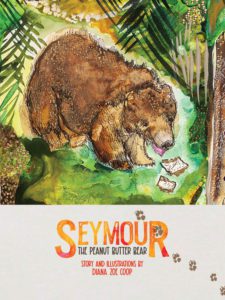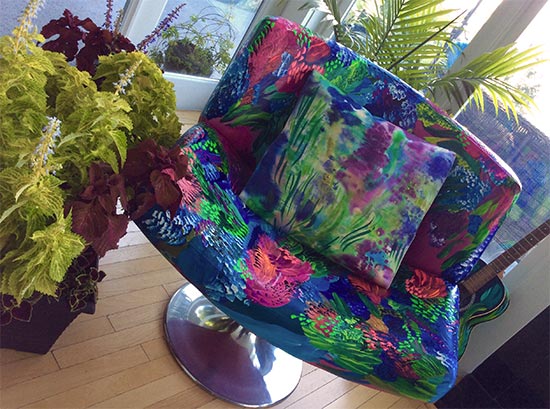 I love to engage with fellow fans of artistic expression.
To reach me, leave your email and a message in the form below and I'll get back to you as soon as I can put down my brushes.