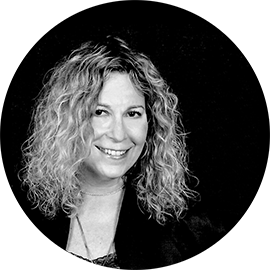 Education
BFA University of Manitoba Gold Medalist 1969-1972
Winnipeg, Canada
Post Graduate Certificate Printmaking
Saint Martins School of Art 1972-1973
London, UK
MFA Syracuse University 1974-1976
Syracuse, New York
Biography
Over the past thirty years, Coop has participated in more than forty exhibits of her paintings, drawings, and three dimensional works across Canada and the United States. Major exhibits were mounted at Sidney and Gertrude Zack Gallery (Vancouver), Rebecca Gallery (Toronto), Site Gallery (Winnipeg), Amelia Douglas Gallery, (New Westminster), and Linda Lando Fine Art Gallery (Vancouver).
Projects and commissions include selection as the artist designer of the City of Vancouver Summer Street Banners, the Point Grey Village Banners, Vancouver, the "Tree of Hope" at the Hope Breast Cancer Resource Center, Winnipeg, "Tribute" commissioned by the Positive Womens' Network, Vancouver, "Illuminations" commissioned by the Harry and Jeanette Weinberg Residence, at the Louis Brier Home, Vancouver, installations at Temple Sholom, Vancouver, and the Beaches Synagogue, Toronto as well as the University of Manitoba.  Coop is a long standing biographee in the Canadian Who's Who for her contribution to visual arts in Canada. Her works hang in private and corporate collections in Canada, USA, UK, Holland, Italy, Australia, Bulgaria, Poland, Czech Republic, Austria, Serbia, France, and Finland.
Diana Zoe Coop's costume designs for dance, gymnastics, syncro, aerial, and skating have been featured in contemporary productions, and worn by Canadian athletes at World Championships, World Cups, Grand Prix, the Olympic and Special Olympic Games.  Her company, "ZoeyCouture," the costume design division of her creative work, may be seen at zoeycouture.com.
The commissioned outdoor garden panels (Berck/Kidd, Toronto) "The Greensides Project" is profiled in the "Moving Towards Green" feature of the Guild Architectural and Interior Art Sourcebook, 2008, published in the USA and distributed worldwide.
Coop's paintings on paper and canvas reflect an intimate exploration of the Japanese Garden, water features, seasons, and diverse plant life that make this an art form unto itself. Contemporary botanical works are her focus, and her passion for, and knowledge of the garden, structures her approach to the canvas as a kind of moveable garden. Her costumes are an extension of the canvas, and each design she creates for the athletes and dancers are a celebration of the powerful unity between kinetic movement, choreography, music, and visual art.
Diana Zoe Coop's working studio, Island Studio, is located on Vancouver's Granville Island and is open to the public by appointment. Her home on the top of the North shore Vancouver mountains inspires her life and work.
Solo Exhibitions
The Artist's Garden
The Sidney and Gertrude Zack Gallery, Vancouver, BC, Canada 2018
Kayos: Costume as Art
Linda Lando Fine Art, Vancouver, BC, Canada 2008
Architectural Bird Houses
Rebecca Gallery, Toronto, Ontario, Canada 2005
Water Lily Works
Rebecca Gallery, Toronto, Ontario, Canada 2002
The Dragon Diaries
SITE Gallery, Winnipeg, Manitoba, Canada 2001
Haiku in a Japanese Garden
Amelia Douglas Gallery, New Westminister, BC, Canada 1999
The Passionate Postcard
Joan Dean Gallery, Vancouver, BC, Canada 1995
Walking with Monet
Joan Dean Gallery, Vancouver, BC, Canada 1994
The Secret Garden
Petley Jones, Vancouver, BC, Canada 1993
The Painter's Garden
Bridge Street Gallery, Vancouver, BC, Canada 1992
Passages, Interpretations
Gallery at Temple Sholom, Vancouver, BC, Canada 1990 & 1988
Group Exhibitions
Sidney and Gertrude Zack Gallery, Vancouver, BC, Canada 2007
Galerie des Arts Contemporains, Montreal, Quebec, Canada 2004
Art Encounter Gallery, Las Vegas, Nevada, USA 2004
Winnipeg Art Gallery, Winnipeg, Manitoba, Canada 1979 & 1978
1708 East Main Gallery, Richmond Virginia, USA 1979
Upstairs Gallery, Winnipeg, Manitoba, Canada 1977
University of Michigan, Ann Arbor, Michigan, USA 1976
Lowe Art Gallery, Syracuse University, New York, USA 1976
Bradley National Print Show, Jury Exhibit, Illinois, USA 1975
Owens Art Gallery, Jury Group Show, Mount Allison University, Sackville, NB, Canada 1974
Merton Gallery, Group Show, Toronto, Ontario, Canada
Sussex University Show, Brighton England, UK 1973
commissions, awards, distinctions
Commissions, Awards & Distinctions
Presidents Award, Sport BC, 2010, 2013
Featured Article: "Moving Towards Green,"
Guild Architectural and Interior Art Sourcebook, 2008
Nominee, Women of Distinction 1997: In Recognition of Involvement in Sport, Recreation and Active Living
Biographee, Canadian Who's Who: University of Toronto Press 1996-present
Manitoba Arts Council Grant 1978
Purchase Award, Owens Art Gallery, Sackville, New Brunswick 1974
Purchase Award, Canada Council Art Bank 1976
Gold Medalist, University of Manitoba, 1972
Marty and Janet Braverman, Residential Commission, Vancouver, 2013
Bradley Curran, Designer, Private Collection, Winnipeg, Manitoba, 2012
Pryce / Stimson, Residential Commission, Puerto Vallarta, 2011
JDRF Featured Artist, Gala Fundraiser, Vancouver, 2011
Dr. Norman Dang, Private Practice, Surrey, British Columbia, 2011
Dr. R. Grewal, Oral Surgeon, Installation, Surrey British Columbia 2011
Temple Sholom, Vancouver, 2010
Yaletown Headquarters, Installation, Vancouver 2008
Walters and Braverman, Oral surgeons, Installation, 2008
The Greensides Project, Berck/Kidd Residence, Toronto 2007
Point Grey Village Street Banners, Vancouver 2006
Weinberg Residence Courtyard, Louis Brier Seniors Home, Vancouver, 2003
Summer Street Banners, City of Vancouver 1994
Tribute: Competition Installation, Positive Women's Network, Vancouver, 1995
The Tree of Hope, Hope Breast Cancer Resource Center, Winnipeg, 1997
Ocean Fisheries, Commission for Corporate Offices, Vancouver
Steelcase Corporate Offices, Vancouver
Marine Foods, Corporate Commission, Den Haag, Holland
Collections and Commissions: detailed list on request
Costume Design
Founded "zoeycouture: Design for the Moving Body."
Designer of costume for competitive and professional dance and gymnastics. Costumes have been featured in contemporary productions and worn by elite athletes at World Championships, Grand Prix and Olympic Games. Designed and executed the costume for the figure skating segment of the Proctor and Gamble 2018 Winter Olympics commercial "Love over Bias." Crystal design and embellishment of two figure skating costumes for the 2018 Juno Commercials for Michael Bublé. Exclusive costume designs for professional contortionists and aerialists, including but not limited to: Dynamic Aerial, Tanya Burka, Hoogspanning Trapeze, Amanda Shatzko, Firebelly Performance, Underground Circus.
Publications
Seymour The Peanut Butter Bear
Children's Illustrated Storybook
2020
I am asked all the time about making art. Questions most often posed to me center around process, materials, where I get my ideas or inspiration, how long a painting took to paint, and what does it feel like to be talented or creative…
Recently I read an interesting quote that I felt really defined the creative process. It was written by Gordon Atkins, the Canadian architect, who had a very illustrious career, and it went something like this: "I don't think we create. I think we interpret, and I think our interpretations are the result of all the visual and actual experiences we go through."
This seems to me to be a very accurate definition of what happens when we paint, or draw, or sculpt…we are the storytellers of our generation. We make real and tangible our thoughts, our visceral interactions, our actual fleeting moments of understanding the world around us, and our reactions to the landscapes of our literal environments.
When I moved up to the top of a mountain, my perspective changed in more than one way…it was not only because my altitude was altered. It was not only because the city stretched to the ocean and the ocean to the islands…it was not only because the moving sky was alive, and like a symphony of tremendous grandeur and changeability.
It was because I saw, for the first time, that I was a very small particle in the scheme of life, and that my talent lay in my ability to watch, to compare the days and seasons, and to make the colours of the forest, sea, sky and garden surrounding me, a story of living alone in this kaleidoscope of wonder.
Woven through this thread of light and darkness were the memories I had of my past, and the myriad experiences of decades of relationships. And most sadly, the profound losses of people I loved. I often thought of my family members who had left this world, and no longer had the opportunity to feast their eyes upon the beauty of the garden, or the belvedere.
There were friends who passed away before their time…far too early, and far too young. They inspired me to paint the wild gardens of my discontent, and my anger…an anger directed at the unfairness of their lives cut short. Their laughter still echoes in my mind, and these paintings bore witness to the questions I asked myself every day, as I struggled to comprehend where my friends were now. One day it just came to me…they were right here with me, in these paintings.
Painting reaffirms, for me, the truth in one thing: that I am alive, and present, and able to make some sense of the chaos in the world. When I pick up the brush, or pour the paint, or collage the real flowers from my garden onto the canvas, I realize the power we have to make some statement about life. As an artist I will have the freedom, and the power, to express not only the outer landscape surrounding me, but the inner rivers of commentary that run, restless, passionate, fast, furious, and some days contentedly, through the pathways of my ever-questioning mind.
As we grow older, we hope to leave a part of ourselves behind in this world. Through our interactions, our deeds, our love of family, children, grandchildren, friends and people we meet, even briefly, we all attempt to be remembered. I consider making art the definitive memory maker. Centuries after I depart from this visceral world, my art will still be a testament that I was here now.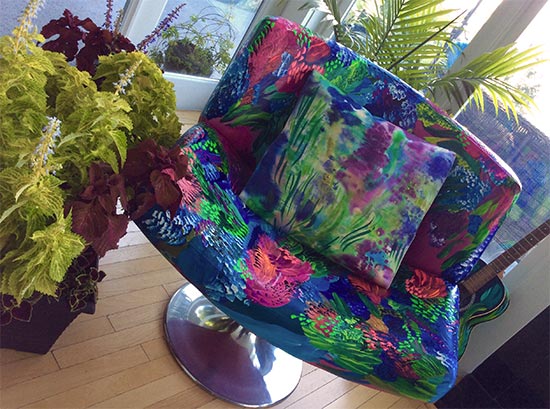 I love to engage with fellow fans of artistic expression.
To reach me, leave your email and a message in the form below and I'll get back to you as soon as I can put down my brushes.